New tools for managing
traffic at rail crossings.
Cost-effective solutions are needed to reduce traffic congestion and vehicle emissions at rail crossings. Existing options include grade separation or developing a custom driver information system to notify drivers about blocked crossings. Grade separation can cost millions of dollars, take years to implement, and is often infeasible in urban areas due to lack of space. Custom driver information systems can be costly, are one-off solutions without ongoing support, and provide limited information since they are unable to accurately predict traffic delays at rail crossings.
TRAINFO helps you re-route drivers around blocked rail crossings and adjust traffic signals in real-time to manage traffic congestion. We predict traffic delays at rail crossings up to 10 minutes before a train arrives. We deliver this information to roadside signs to help drivers re-route and to traffic management centers to help adjust traffic signals before, during, and after a rail crossing blockage event.
Predict traffic delays at rail crossings up to 10 min before a train arrives
Re-route drivers around blocked crossings with electronic roadside signs
Automatically adjust traffic signals before, during, and after a crossing blockage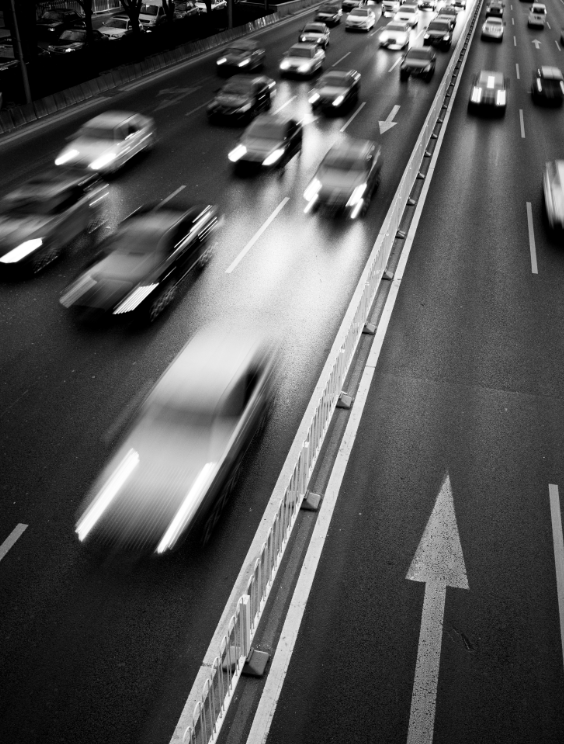 Dynamic message signs notify motorists when a rail crossing is blocked and how much delay to expect. These signs are often installed at locations that allow motorists to re-route to avoid the traffic delay. Sometimes an alternative route is unavailable. In these situations, motorists still find benefit from the information. They can grab a coffee, run a quick errand like getting gas or a car wash, or get peace of mind in knowing how the blockage will affect their travel time.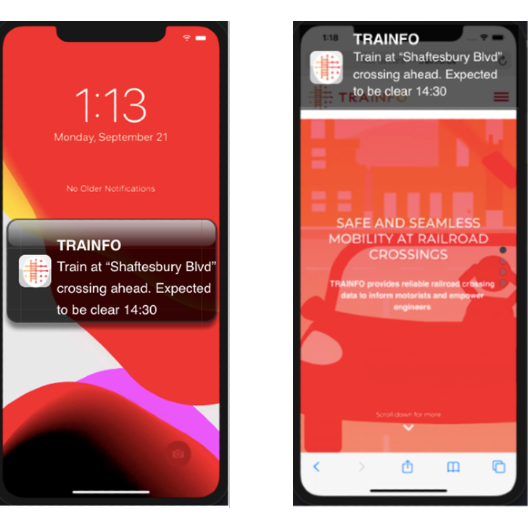 Push notifications are sent to iOS and Android mobile devices when a rail crossing is blocked ahead. Users can receive live alerts for selected rail crossings that commonly delay them. This feature helps with pre-trip decisions like when to leave and which route to take. Motorists can also receive real-time alerts while driving if they are near a rail crossing that is blocked. This feature helps make routing adjustments during the trip.
Today, with TRAINFO's ability to generate rail crossing information with no involvement from the railroads…there is now an opportunity to make this information a staple in all computer-aided dispatch systems.
M. HIBLER, 9-1-1 TECHNOLOGY MANAGER, CHARLESTON COUNTY PUBLIC SAFETY
TRAINFO is the gold standard for rail crossing information.
J. Cambridge, IT Lead, Seattle Dept. of Transportation
TRAINFO has allowed us to respond to public inquiries regarding crossing blockages with accurate and reliable information.
B. Rahmani, Traffic Engineer, City of Vancouver
TRAINFO enables data-driven decision making due to train delays and can be a vital component to better inform travelers, allowing them to make better travel choices and reduce frustration.
J. Kostyniuk, Traffic & Transportation Engineer, City of London
FAQ's
TRAINFO's train detection sensors are installed anywhere within 100 ft (30 m) of the rail crossing. They are located off rail property and can be installed on existing poles such as light standards, utility poles, or traffic signals. Our sensors do not require a line-of-sight to the rail crossing.
No. TRAINFO's entire system, including train detection sensors, operate completely independently from the railroads. However, we strongly encourage communication with railroads and recommend informing them prior to installation.
TRAINFO achieves 100% train detection accuracy at active rail crossings and produces zero false negatives. Our sensors are specially designed to overcome environmental/weather issues, line of sight limitations, and darkness/glare and our machine-learning algorithms and edge-computing processes perform real-time quality control checks.
TRAINFO differs from other systems and custom solutions in several important ways as follows:
Prediction: We predict traffic delays at rail crossings up to 10 minutes before a train arrives.
Interoperability: We seamlessly integrate into traffic management systems and emergency dispatch software using application programming interfaces (APIs).
Accuracy: Our off rail property sensors provide unmatched train detection accuracy.
Independence: Our system is completely independent from the railroads – no need for railroad approval or involvement.
Support: We provide ongoing customer support for the entire life of the system.
Price: TRAINFO systems typically cost 50% less than other options.
Comprehensiveness: Our systems facilitate network-level traffic management capabilities around rail crossings.
Usability: Our solutions are designed with intuitive user interfaces and controls.
Implementation: TRAINFO systems can be implemented in less than a month.
Installation: We offer a completely wireless system – no trenching or underground communication required.
Yes. We offer application programming interfaces (APIs) that plug into existing traffic management systems and traffic signals. We also offer triggers that are delivered to traffic engineers to manually adjust traffic signals before, during, and after a rail crossing blockage event. We are constantly adding new partners.
TRAINFO provides the most detailed and accurate traffic delay statistics at rail crossings. Traffic delays can be aggregated or disaggregated temporally (e.g., by hour, day, month, and year), spatially (e.g., by origin-destination pair and for the entire road network surrounding a rail crossing, not just a road corridor/segment), and by event (e.g., delays occurring while the train is present and after the train leaves and traffic begins returning to expected conditions).
TRAINFO uses roadside signs to notify drivers about expected delays at rail crossings. These signs are installed well ahead of the rail crossing to allow drivers to re-route. These signs tell drivers if they will be delayed by a train and for how long. This information discourages aggressive driving behavior towards rail crossings since drivers do not need to race to the crossing "just in case there's a train".
No. We work with public agencies to develop messages that prevent unsafe driving behavior and re-routing onto residential streets. For example, we do not tell drivers when a train will arrive since this may encourage them to try and beat the train.