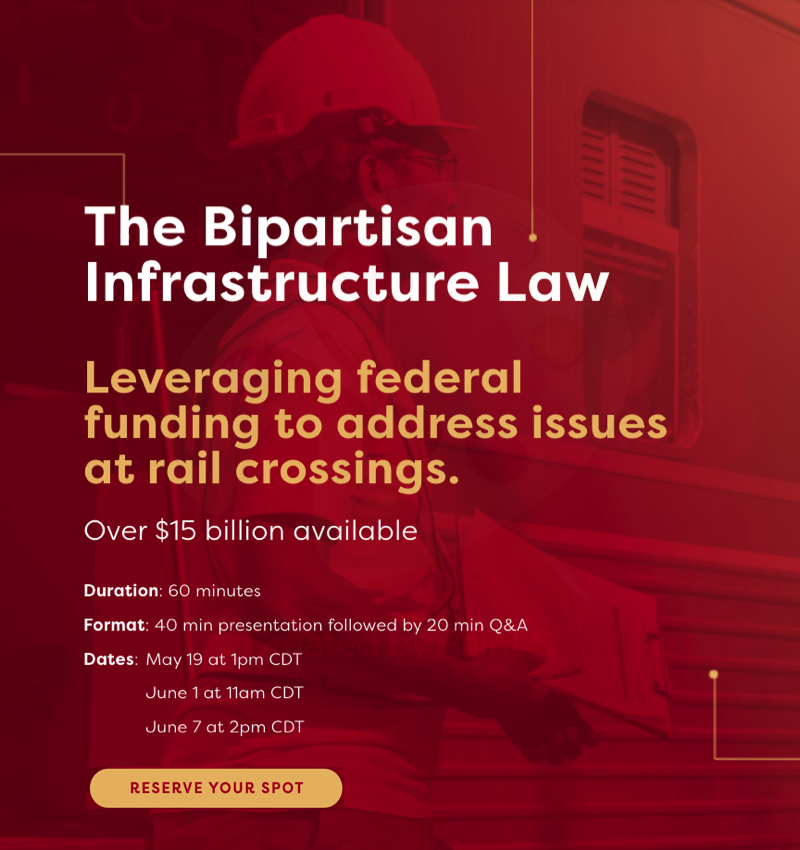 ABOUT THE WEBINAR
The Bipartisan Infrastructure Law (BIL) is historic legislation that provides unprecedented federal funding to address issues caused by blocked rail crossings. Emerging and proven technologies from TRAINFO are now available to predict rail crossing blockages and enable drivers and first responders to avoid trains. Our technologies, which are supported by the Federal Railroad Administration, have helped public agencies:
Reduce traffic congestion at rail crossings by

30%

Reduce vehicle exposure to trains by

22%

Reduce first responder delays caused by blocked crossings by

71%
In this webinar you will learn how TRAINFO's new rail crossing technologies work, hear how places like Charleston County, Hattiesburg, and Vancouver have benefitted from TRAINFO, and see how to use BIL funding programs to implement these solutions.
HEAR FROM INDUSTRY LEADERS
Leader in real-time and predictive train information.

---

Federal funding grant application writing specialists.

---

Leader in public safety answering point solutions.

---

Global leader in smart mobility infrastructure management.

---